If you want to do a Virtual Visit with Santa over the internet this year. We are making it easier than ever.
With the visit, you and your children will have preshow entertainment by a Magical Live visit from our JingleRing characters, KidzBop and JibJab.  Also, a shareable video and group photo is included with live visits.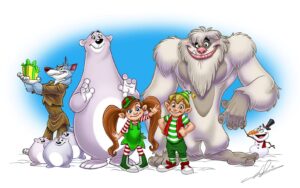 Participants can register on the website JingRing.com for a live visit with Santa. There are different packages to choose from. You can also choose for Santa to read a book by choosing a faith-based story or a traditional Christmas story.
What is great about this is you can have anyone on the video call you want from wherever in the world. Great for military families who have a deployed parent or grandparents who live in another state.
To visit with Santa Earl, put in code Jingle297. 
"Santa will have all the information right on his screen about the child and their pet names and how good they have been at school — yes, even school with ZOOM, Santa will not have to leave his workshop this year until Christmas Eve to make those no contact deliveries."
Free Activity eBook with every JingleRing booking
Enjoy hours of fun with all of Santa's friends!

"One of the most important parts in children's lives is meeting with Santa. Children can't wait to tell Santa their hopes, their wishes and their dreams!"
Click Link below.
https://www.jinglering.com?oid=3&affid=297